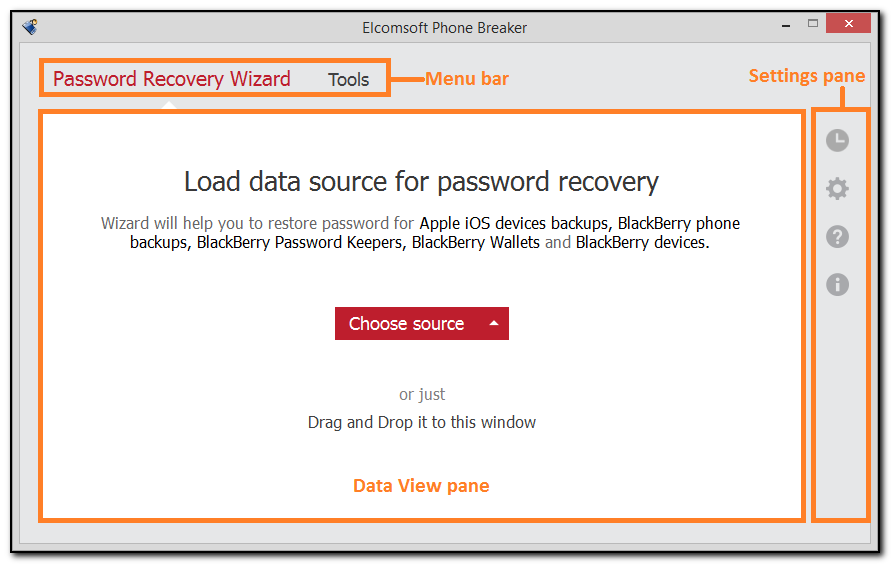 The Elcomsoft Phone Breaker user interface consists of the following elements:
▪Menu bar: Provides access to the main functionality. The menu bar consists of several tabs:
oPassword Recovery Wizard: Allows launching an attack on passwords protecting iOS and Blackberry backups.
NOTE: This option is only available in the Windows edition.
oTools: Allows decrypting backups for iPhone and BlackBerry devices.
iOS: iCloud downloads, FileVault decryption, Keychain explorer, and authentication token extraction.
Microsoft Accounts: downloads text messages, Calls, Contacts, Notes, Locations, Web Browsing History and Web Search History.
BlackBerry: Password Keeper decryption.
▪Data View pane: Allows managing data in EPB, depending on which tab on the Menu bar is selected.
▪Settings pane: Access to the following tabs:
oJournal: Access logged events.
oSettings: Confugure Hardware, Network, iCloud, and Templates settings.
oHelp: Access Help, check for updates (macOS), send feedback, purchase or enter registration code.
oAbout: version number and registration information.