EPB can instantly unlock access to passwords stored in BlackBerry Password Keeper for BlackBerry 10. The ability to decrypt the content of this password manager application enables forensic access to some of the most sensitive information stored on BlackBerry device.
Note: BlackBerry 10 backups themselves are also protected and must be decrypted with Elcomsoft Phone Breaker prior to targeting BlackBerry Password Keeper.
For older versions of BlackBerry OS, recover the master password to BlackBerry Password Keeper container using EPB for Windows.
To decrypt the BlackBerry 10 Password Keeper, do the following:
1.In the Tools menu, select the BlackBerry tab.
2.Select Decrypt Password Keeper.
3.Select BlackBerry backup file (*.bbb) by drag-and-dropping it to the window, or click Choose decrypted backup.
4.You can view the following information about backup on the Decrypt BlackBerry Password Keeper page:
•Backup date
•User ID
•Product type
•Serial number
•OS version
•Backup protection
•Password Keeper Records
The list of records stored in Password Keeper is displayed.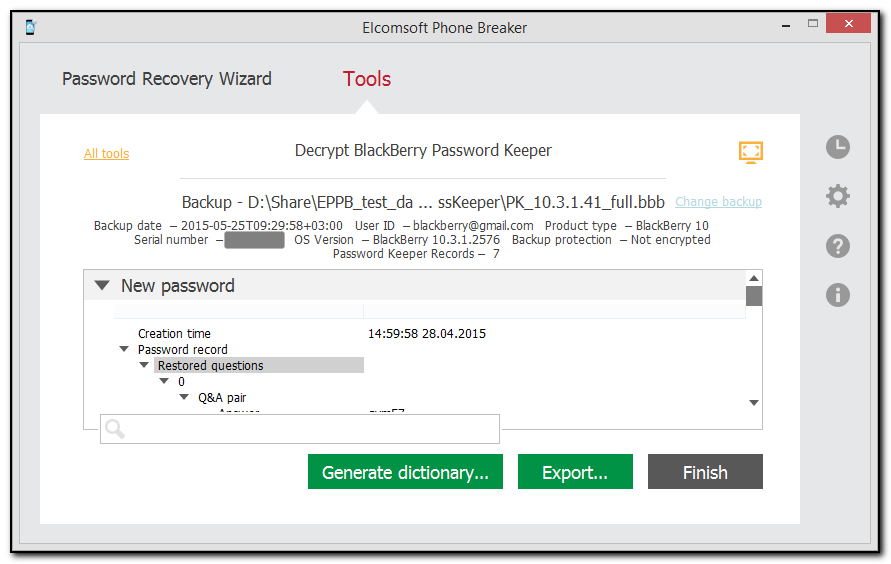 To expand the window and view the information full-screen, click Expand

.
You can search for the keywords to be found in the Password Keeper data by entering them in the search field and pressing Enter.
Click Generate dictionary to save the decrypted passwords to a text file for further using as a dictionary for password recovery.
Click Export to save all records to an XML file.