If you already know (or have previously recovered) the password to BlackBerry backup, EPB can decrypt it, so you will be able to open decrypted backup file in other software (we recommend to use Elcomsoft Blackberry Backup Explorer).
You need a BlackBerry database*.ipd file or backup *.bbb file to decrypt the backup.
Only BlackBerry smartphone backups can be decrypted; backups made from PlayBook devices have different format and are not supported yet, so EPB can only recover the passwords for such files, but cannot decrypt them.
To decrypt a BlackBerry backup, do the following:
1.In the Tools menu, select the BlackBerry tab.
2.Select Decrypt backup.
3.Select either the BlackBerry database file (*.ipd) or BlackBerry backup file (*.bbb) by drag-and-dropping it to the Decrypt backup window, or click Choose backup.
4.In the opened window navigate to the backup file by entering the file path in the path box. Select the backup file and click Choose.
The properties of the backup are displayed below the grid.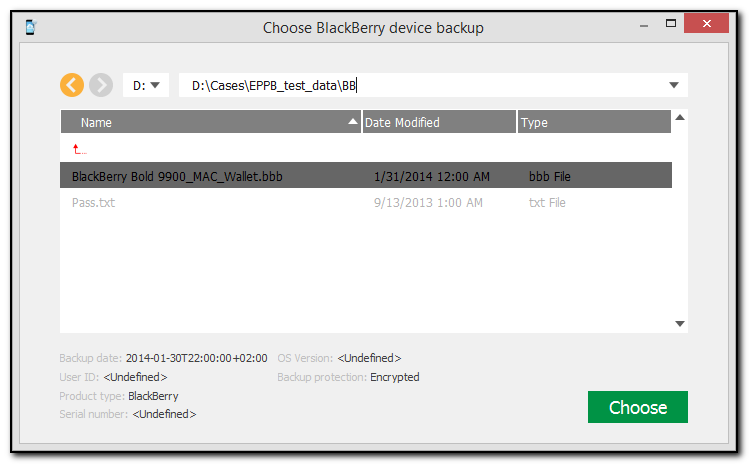 5.When the backup is loaded, you can view the following information about backup:
▪Backup date
▪Product type
You can select a different backup by clicking Change backup next to the backup name.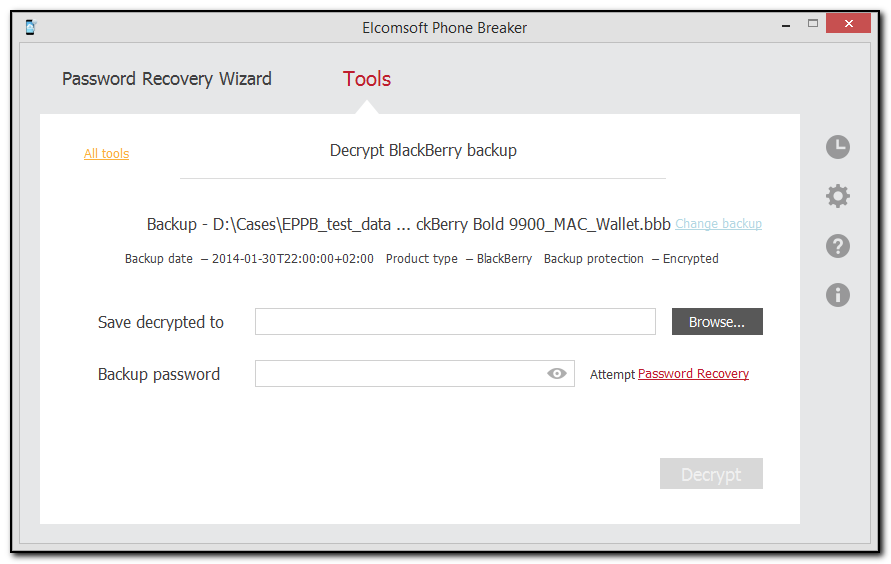 6.Define the options for backup decryption.
•Save decrypted to: Select location for saving decrypted backup.
•Backup password: Enter the password for the backup. Toggle the View

button to display the password as characters or in asterisks (*).
If you are using EPB on Windows OS, click Password Recovery to recover the password to the backup.
7.Click Decrypt.
8.The decryption process starts.
9.When decryption is finished, you can view the backup in the location on the local computer to which it was saved by clicking the View

button.
10. Click Finish to close the Decrypt backup page.