You can save and resume the pipeline and the intermediate state of password recovery attack sessions. Saving can be performed manually or automatically.
Saving and resuming attack sessions manually
To save the state of a password recovery attack session manually, do one of the following:
•click Pause, and then click Save State and navigate to the destination path.
•click Save State, and then navigate to the destination path. In this case, the attack is paused and resumed automatically once the session is saved.
By default, the first-time destination path is %USERPROFILE%\Documents. On next saves, the latest destination path is displayed by default.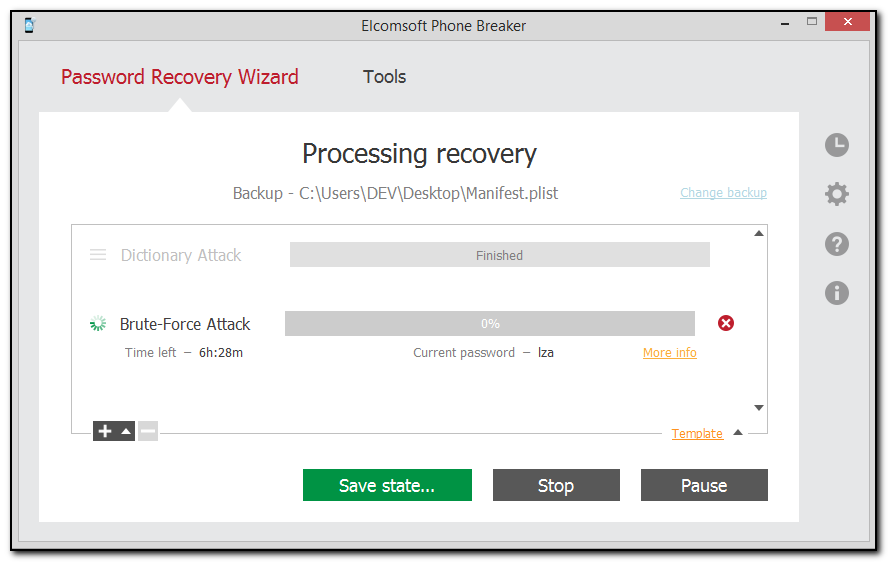 To resume a manually saved attack session, select Saved session in the main menu in Password Recovery Wizard, and then navigate to the session file. The attack session will continue from the moment it was stopped.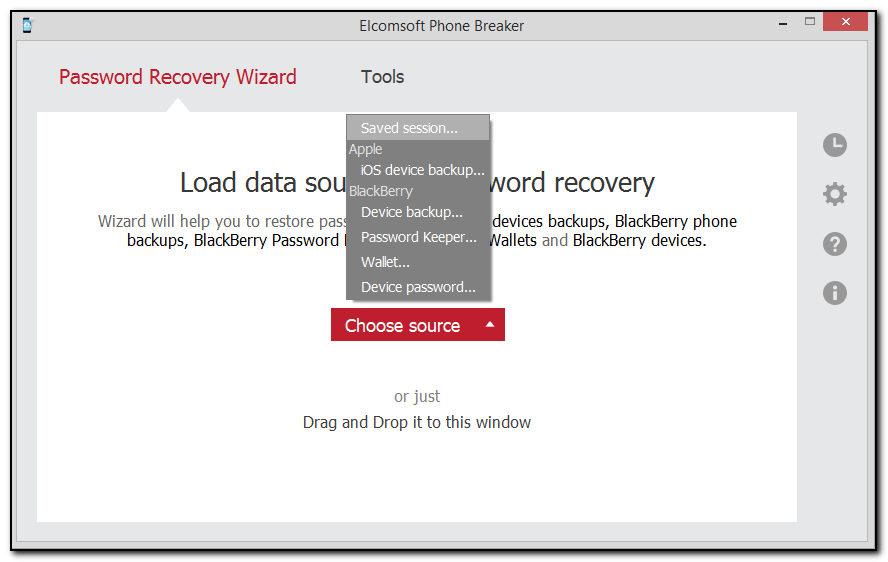 Autosaving sessions
If the application was terminated before the attack was completed, attack sessions are saved automatically. By default, autosaved sessions are stored in %AppData%\Elcomsoft\Elcomsoft Phone Password Breaker\Sessions\~autosave.epb).
You can also configure EPB to save attack sessions automatically at a desired frequency.
To do this, go to EPB settings > General and:
•make sure the Automatically save password recovery session every <> minutes option is selected (by default, it is selected).
•set the desired autosave frequency to any time interval between 1 and 180 minutes (the default frequency is every 5 minutes).
If an attack is completed successfully, or if you press Stop during an attack session, the autosaved session file is deleted automatically.
Resuming autosaved sessions
If the application was terminated, you will be offered to resume an autosaved attack session when you restart EPB and select Password Recovery Wizard. You can see the following information on the autosaved attack:
•Source: the backup type.
•Path: the destination path to the backup file.
•Attacks: attacks and their status (Finished for completed attacks and completion percentage for interrupted attacks).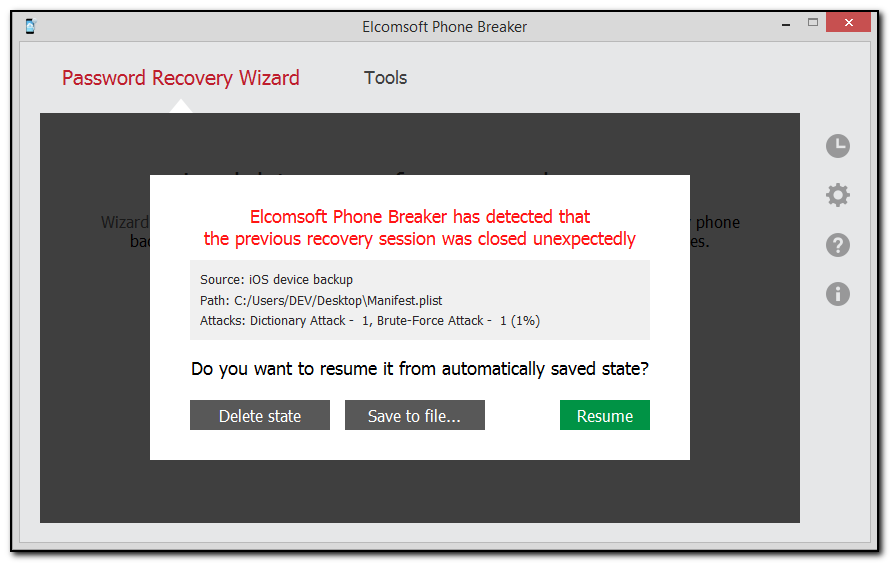 Press Resume to resume the autosaved attack session from the moment it was interrupted.
Press Save to file to save the autosaved attack session manually.
Press Delete state to delete the autosaved attack session.
Resuming attack sessions with missing files
If, after restarting EPB, the backup file or an attack dictionary is missing in the specified destination folder, click Restore and select one of the following:
•Browse: to navigate to the files you need.
•Skip: to resume the attack session without the missing files.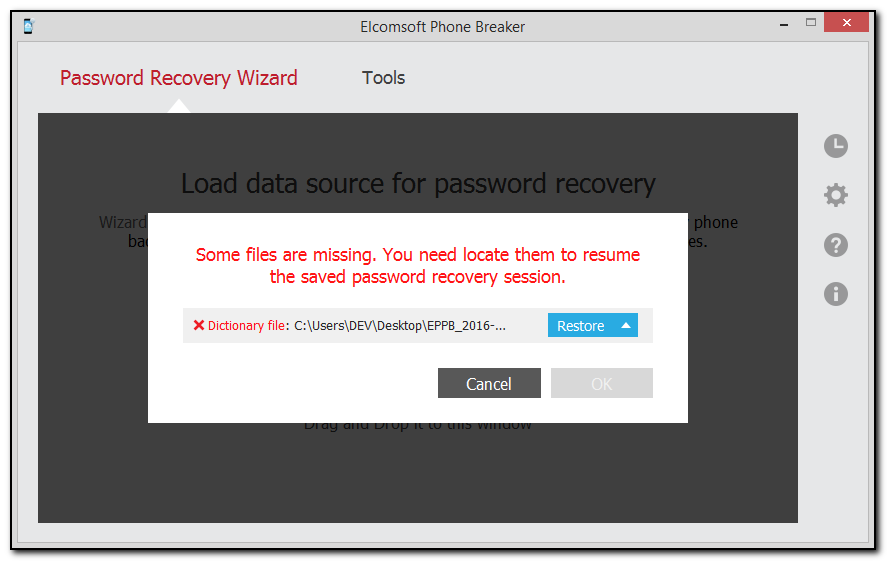 Resuming attack sessions in a different environment
You can resume an attack session in a different environment (on a Windows-powered computer with different CPU and GPU). Also, if you pause an attack and change CPU and/or GPU settings on your computer, EPB will resume the attack with the new settings applied.