The left pane of the window displays the conversations as a list of contacts (phone number or name).
Incoming messages are shown on the left and outgoing messages are shown on the right. The number of messages for every contact is shown (in brackets). You can also view group and archived chats as well as system messages.
The emoji are displayed in both message texts and contacts.
In WhatsApp Business backups, messages and chats can be marked with label icons


. These are labels assigned by the user. Point to the label icon to view its name.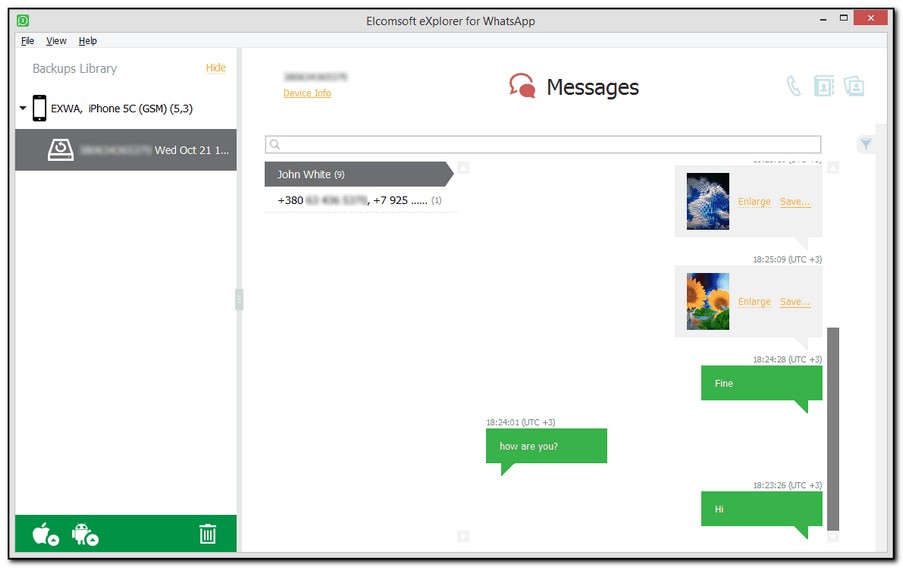 Viewing attachments
You can view the message attachments of the following types: pictures, audio, video (starting with WhatsApp 2.12.7), contacts, and Google Maps locations.
To save the attachments to your computer, click Save next to the selected attachment, define the destination folder, and click Save.
NOTE: The current version of EXWA does not support viewing attached documents that were sent using the Share Document option in WhatsApp. You will be able to see the name of the document only.
Searching and Filtering
To perform searches in Messages, enter the necessary data in the searching field and press Enter. The found results will be highlighted in yellow.
To filter out the messages, open the Filter pane by clicking the

icon on the left.
Enable filtering by switching the On/Off toggle, and define the filtering options:
•Date: filters messages by date, then select the year in the drop-down list below and define the time interval by moving the slider on the scale with names of months.
•Chat: filters messages by chat type (individual or group).
•Direction: filters messages by direction (incoming or outgoing).
•Show messages that contain: filters messages by the attachment type (All Attachments/Audio/Video/Locations/Contacts/Images).
•Show messages with labels (available for WhatsApp Business backups only): filters messages by default and custom labels.
NOTE: When using filter options, you will be able to view only the number of records allowed by your license type.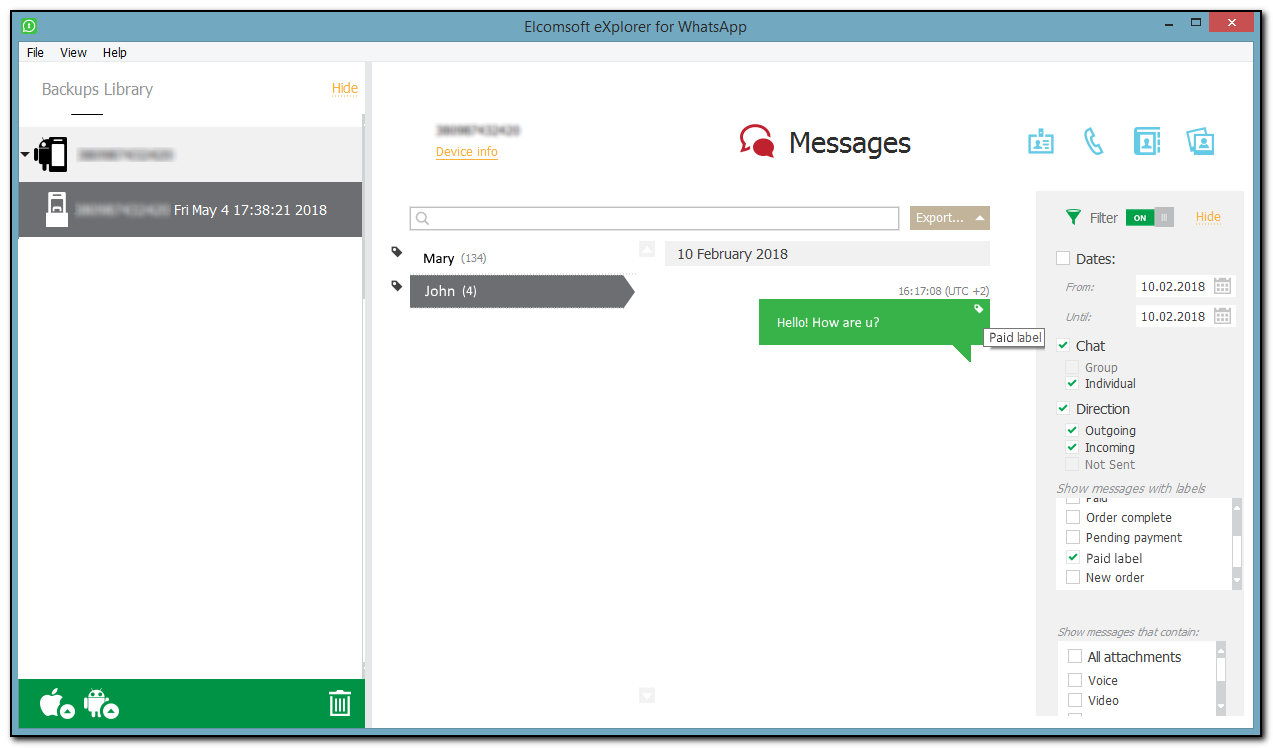 To copy the whole message, right-click on it and select Copy message. To copy a part of the message, click the area where the text is to be copied from, highlight the text, right-click and select Copy or Select All.