You can explore the events planned in all calendars (regardless of the account) used by device user: one time and regular events, birthdays, holidays and so on. Please note that for recurrent events/appointments, only the first day of the event is shown.
Note: There are no calendars in Windows Phone backups, so this plugin is active for BlackBerry and iOS backups only.
Scroll down to month/year you want to view the events for, and select the proper day -- all events for the selected day will be shown on the right, including the following information:
•Title
•Location
•Duration (including the time zone)
•Calendar (there could be a few accounts in the system)
•Organizer (the person who organizes the event)
•Participants
•Alert, if set
•Repeat (if available)
•Notes (if available)
To perform searches in Calendars, enter the necessary keyword in the search field and press Enter. The search results will be highlighted in yellow.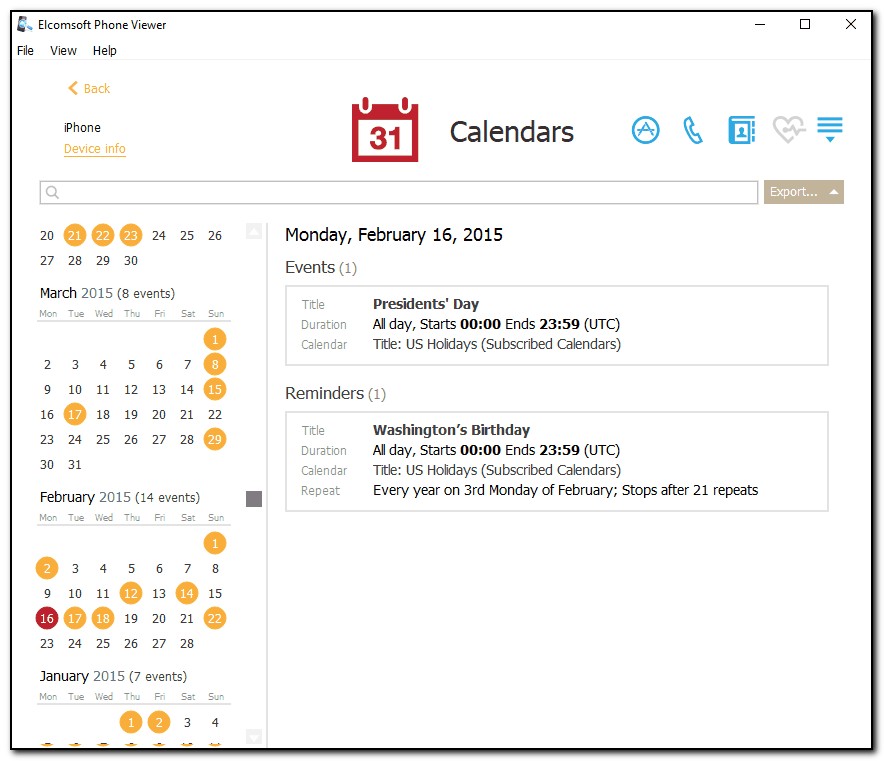 Exporting
To export calendars data, do the following:
1.Click Export.
2.Select All.
3.The Select destination file window will open.
4.In the opened window, select the location in which the file with exported data will be saved and enter the file name.
5.Click Save.
6.The <file name>.xlsx file is saved in the selected location.