EPB allows you to analyze information stored on the SD (Secure Digital) card for your BlackBerry device and recover the original device password even if you don't have the device at hand. You will need the info.mkf file from SD card for decryption. The info.mkf file is usually located in BlackBerry/system directory on the media card, and is marked as hidden.
NOTE: Media Card encryption should be set to either Security Password or Device Password mode (but not to Device Key or Device Password & Device Key) in the phone settings.
To decrypt the encrypted SD card, do the following:
1. In the Tools menu, select the BlackBerry tab.
2. Select Decrypt SD card.
3.Drag-and-drop the SD card folder to Decrypt SD Card page or click Choose SD card's folder to navigate to the folder manually. Please select the whole SD card folder, EPB will detect the info.mkf file automatically.
4.Click Choose to select the file.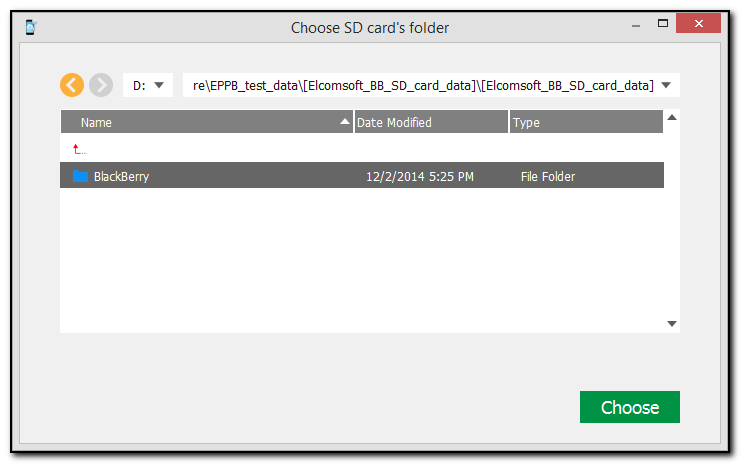 5.Enter the password to your BlackBerry device. Toggle the View

button to display the password as characters or in asterisks (*).
If you are using EPB on Windows OS, click Password Recovery to recover the password to the device.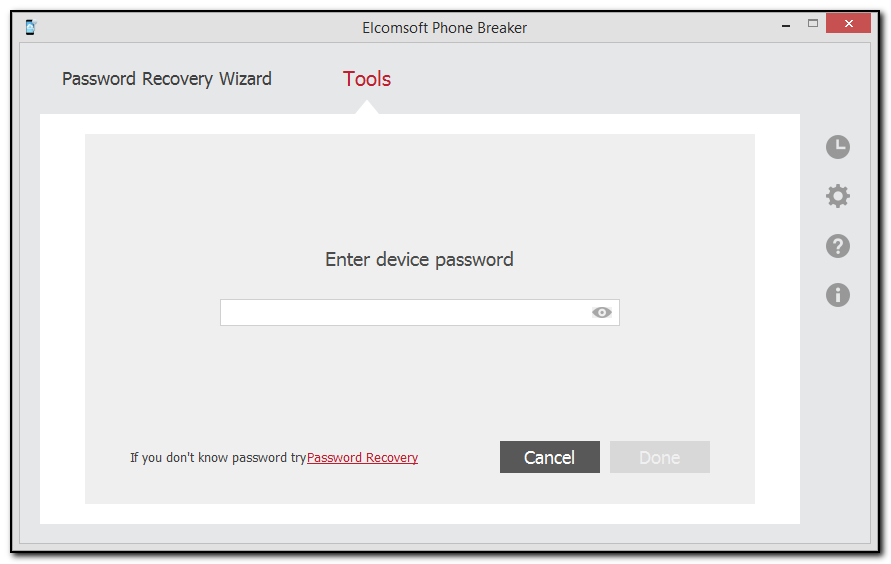 Click Done when you have entered the password.
6.The Decrypt SD Card page opens.
Define the location where decrypted files will be saved and select the files that you want to decrypt.
Click Change SD card to select a different SD card for decryption.
Use Check all and Uncheck all options to select or deselect all items in the list.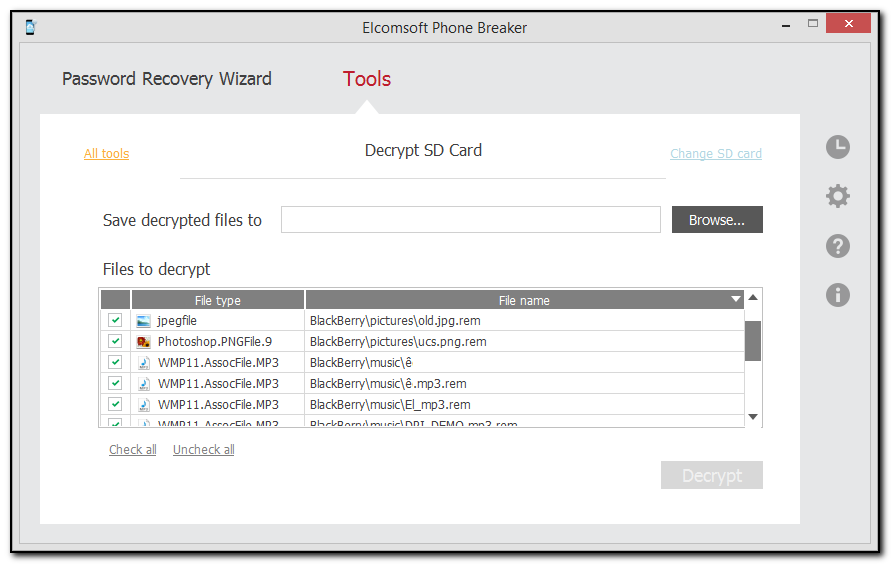 7. Click Decrypt.
NOTE: The folder where the decrypted files will be saved must be empty.
8. When decryption is finished, you can view the general information about processed files and errors on the final page. You can view the decrypted data from SD card in the location on the local computer to which it was saved by clicking the View

button.
9. To view detailed report about decrypted files and errors that occurred during decryption, click Details.
10. Click Finish to close the Decrypt SD Card page.